Dental Veneers In Bartonville, TX
Do you often hide your smile due to damaged, discolored, misshapen or even misaligned teeth? Wishing there was a quick and affordable way for you to completely change the appearance of your smile? At SmileUp Dentistry, we are proud to offer dental veneers for our patients that suffer from dental imperfections and are interested in a versatile, affordable and effective way to completely alter their smile. Not sure if dental veneers would be right for you?
We often recommend them to address:
Chipped Teeth
Cracked Teeth
Worn Teeth
Stained Teeth
Uneven Teeth
Misshapen Teeth
Gapped Teeth
Crooked Teeth
Misaligned Teeth
What To Expect With Getting Veneers?
You're probably searching the internet trying to figure out if veneers are a good fit for you and what all goes into the procedure. Most people with a minor cosmetic dentistry issue can receive a veneer without issue. However, there are some things you need to know to identify if you qualify for this type of procedure, and if it's a good fit for you. Below we will address some of the most common questions and concerns regarding veneers.
Think dental veneers may be right for you? Feel free to contact SmileUp Dentistry to schedule your consultation. We'd be more than happy to determine if our dental veneers are the right option for you.
Video: Dental Veneers – Talking Points With Dr. Sonya Reddy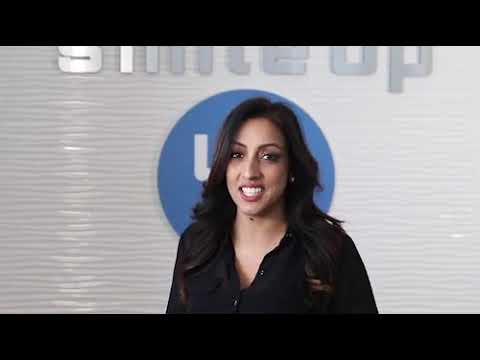 Am I a good candidate?
Your dentist will recommend waiting or refer you for another procedure if you have gum disease, tooth decay, traumatic bite or just poor oral health in general. Treating those conditions first will make your mouth biologically compatible for longer lasting veneers.
Long-term success with dental veneers requires realistic expectations, specific goals for cosmetic dentistry, and a commitment to maintaining excellent oral healthcare. You also need an adequate amount of tooth enamel to help keep the dental veneer in place. The recovery period after a dental crown procedure typically lasts for a few days, as the body recovers from the irritation and inflammation associated with the procedure. It is normal for you to experience some sensitivity, discomfort, or pain initially, which should subside after the first few days.
What is the process?
We bring you in for a consult and once we do a 3D scan of your teeth, impressions and selecting your smile design/shade, we proceed to do a mockup of your new smile.
In 2 weeks, we bring you back with the mockup and now we start prepping the teeth and place your new temporaries that look like your permanent teeth. Imaging is then taken and sent to the lab and ceramist to design your perfectly milled teeth with the custom shade and shape selected. This will now be sent to the office back for cementation. This will be a short appointment, where we try in new permanent teeth and voila – you are ready to smile bright and beautiful with your new teeth.
What's with the Pain, Discomfort and Sensitivity?
We use CBD / Nitrous, numbing gel and pills to make you feel comfortable during your visit. We also provide headphones, pillows and aromatherapy to relax you during your visit.
The recovery after getting your new dental veneers should go smoothly, and minimal discomfort should be expected and on rare occasions some rednes/ soreness around your gums is noted. Some patients report that they have some tooth sensitivity, which is a result of the bonding agents used to install the veneers
In general, you should feel much better within just a few days if you have any discomfort at all. Keep in mind as well that it can take a bit of time to get used to how your teeth feel after veneers have been installed. They may feel odd against your tongue, when you speak, or when you chew. Most patients overcome the newness within a few weeks.
You will find it useful to use simple analgesic medications to help manage the pain in the meantime. Ibuprofen is often recommended to help reduce the associated pain.
About Our Veneers
Dental veneers are a thin shell, often made from porcelain which has been fabricated to look just like a natural tooth. Prior to fabricating your dental veneers, your dentist at SmileUp Dentistry will make sure your new smile is the perfect size, shape, and color. Once fabricated, the dental veneers are bonded directly to the front of your prepared teeth, completely concealing your natural smile while leaving you with a perfect, new beautiful one.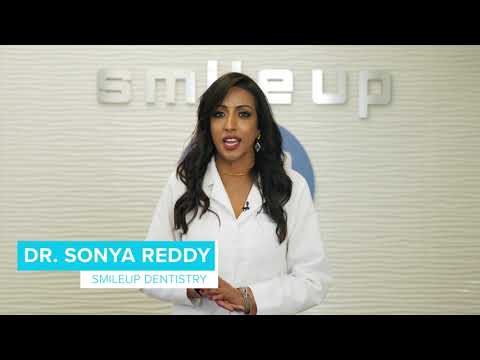 How long do Dental Veneers last?
Care for Your Veneers
Once your porcelain veneers are placed, the dentist will give you a detailed explanation of what to expect and how to treat your veneers going forward. Every patient's experience can be different, so it is important to get guidance from your dentist. Before you leave the office after the procedure, the dentist will advise you about:
How to handle any discomfort once you get home
What medications to take for inflammation and swelling
How long to wait before eating or drinking
When to come back in for a checkup
Your new veneers have the potential to last many years with the proper care. as you get adjusted to how your teeth feel with the veneers, take care when you bite and chew. Try to avoid eating anything especially hard to chew in the first few weeks. Porcelain veneers are much more resilient than most patients anticipate, but they can still sustain damage with a direct hit or eating something like hard candy.
Benefits of Dental Veneers in Bartonville, TX
When it comes to cosmetic dentistry, dental veneers have many benefits over the alternative treatment options, including:
Dental veneers are versatile and can be used to address virtually any dental imperfection.
Porcelain veneers are stain resistant, leaving you with a brighter smile for longer.
Dental veneers are durable and strong, with proper at home and professional care they can last for many years.
Get Dental Veneers Today
Ready to conceal your dental imperfections and improve the appearance of your smile? Contact SmileUp Dentistry today to schedule your consultation for dental veneers in Bartonville, TX, Lantana, Flower Mound, Argyle, Copper Canyon, Corral City and Double Oak. We are always accepting new patients at our dentist office and would be happy to determine if veneers are the best option for you and your smile.