Teeth Whitening In Bartonville, TX
Smiles Are Valuable
A bright, beautiful smile improves self-confidence. That's why Dr. Sonya Reddy of SmileUp Dentistry offers three popular teeth whitening solutions. Teeth whitening in Bartonville, TX is one of the most widely used cosmetic dentistry services available. With it, Dr. Reddy's can help you cut through embarrassing stains to reveal a dazzling smile underneath. And with our three convenient options, we know we have something that will meet your needs.
Zoom! Teeth Whitening in Flower Mound, TX
As one of the most popular whitening kits used by dentists, Zoom! can help you dissolve stains caused by foods, drinks, tobacco use, or aging. And with its powerful, light-activated gel, you'll see the result you've been looking for in just a single hour. Imagine coming to Dr. Reddy's Irving office with dull or embarrassing stains and leaving with a white, revitalized smile. With Zoom! that's exactly what you can look forward to, making it a great option for patients with a big event coming up, like a wedding, a graduation, or a new career.
Whiter Imaging Home Edition Teeth Whitening Kit
Zoom! is an effective, in-office whitening solution, but in-office whitening isn't right for everyone. For some patients, an at-home whitening option is the best. That's why Dr. Reddy offers the Whiter Image home teeth whitening kit. With the mouthpiece and professional whitening treatments provided by Whiter Image, you can brighten your teeth on your own schedule and in the comfort of your own home. What's more, you can even use your home whitening kit to touch up the results of in-office whitening, ensuring that your smile stays brighter for longer.
Video: Teeth Whitening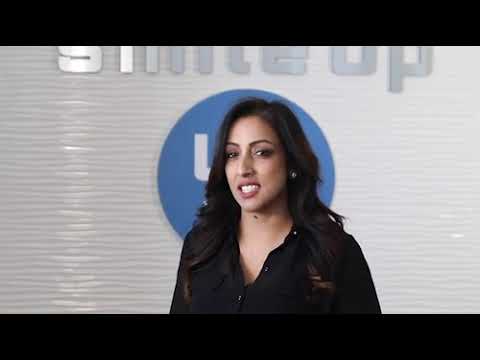 Whiter Image Chic-Flic Teeth Whitening and Lip Gloss Plumper Pen
As a more compact and convenient teeth whitening option, this Whiter Image device can be easily stored in a purse or travel bag, making it easy to whiten wherever you are. It comes with both a whitener and lip gloss for a comprehensive treatment that helps your entire smile, including your lips.
SmileUp Dentistry offers general and cosmetic dentistry to Texans living in the Irving, Flower Mound, Bartonville, Lantana, Copper Canyon, Corral City, Double Oak, Argyle, Grand Prairie, Coppell, Arlington and Euless areas. Let us give you a reason to smile!