Dentures In Bartonville TX
Affordable Dentures in Bartonville, Texas
Dentures have been used as a reliable form of tooth replacement for hundreds of years. Today, dentures offer affordable tooth replacement, giving you a conservative and removable option that will fit your budget while still helping you maintain oral function and facial shape. SmileUp Dentistry offers affordable full and partial dentures to our patients so that you can experience a whole and complete smile without breaking the bank.
Full Dentures
A full denture replaces all of the teeth along an arch, and this is essential. If you're missing all of the teeth along an arch or are facing the extraction of all teeth, replacement will be required. You won't be able to eat or speak properly without teeth, and your nutritional health will suffer if you can't chew food. Other problems associated with missing teeth include sagging facial shape. Your teeth support your facial muscles, and without them, the cheeks will sag, causing appearance problems. These are all reasons to consider full dentures from our SmileUp Dentistry, Texas dental office.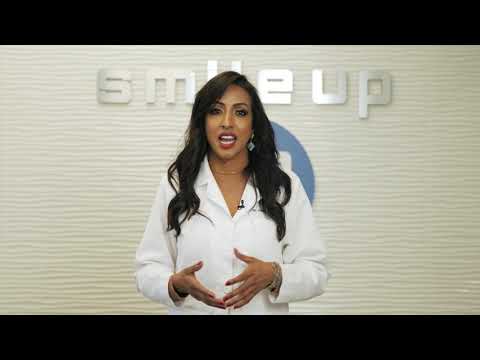 What are dentures made of?
Partial Dentures
What if you're just missing one or two teeth? We do offer partial dentures as an affordable and removable form of tooth replacement for those who are only missing a few teeth. When you're missing a few teeth, you will still experience disruptions in your eating and speaking ability. Also, the rest of your teeth will begin to see their health deteriorate. Missing a few teeth leaves you more likely to experience gum disease and tooth decay, and it will cause your remaining teeth to shift. As bite changes, problems can develop with your TMJ, and chronic pain will result.
A partial denture is made from a few teeth laid out along a frame of metal and gum-colored material. The teeth are laid out in a pattern that matches the spaces from which teeth are missing, and the frame can clasp onto remaining healthy teeth to secure your partial denture.
At SmileUp Dentistry, we will go to great lengths to make sure your denture or partial denture looks as natural and beautiful as possible. There's no reason that you should have to sacrifice quality in order to find an affordable option for tooth replacement. Our SmileUp dentistry office trusts only top quality labs to make our dental restorations, giving you the smile you deserve.
SmileUp Dentistry offers general and cosmetic dentistry to Texans living in the Bartonville, Copper Canyon, Corral City, Argyle, Double Oak, Flower Mound, Lantana, Grand Prairie, Coppell, Arlington and Euless areas. Let us give you a reason to smile!