Cosmetic Dentistry In Bartonville, TX
Get the Smile of Your Dreams with a Professional Cosmetic Dentist
You should be proud of your smile! Research has shown that a healthy, gorgeous grin is both attractive and a sign of a successful person. At SmileUp Dentistry, we can brighten your enamel, fix gaps and cracks, and straighten misalignments. We have a variety of services of cosmetic dentistry that can benefit your smile. And combined with our general dentistry options, we can do full-mouth reconstructions and smile makeovers to give you a foundation of dental wellbeing for your new, beautiful smile. We offer Invisalign, Zoom! Whitening and Six Month Smiles to align your crooked teeth, and we can also replace missing teeth with dental implants.
Dr. Sonya Reddy and her experienced cosmetic dentistry team in Flower Mound, TX will do all that they can to give you the smile that improves your appearance and your confidence. At SmileUp Dentistry, we can use porcelain veneers to fix a myriad of cosmetic issues such as gaps, chips, cracks, stains, and misalignments, as well as broken, misshapen, and damaged teeth. Porcelain veneers are matched in size, shape, and color to your natural teeth, and these customized thin wafers are attached to your prepared enamel. And it usually only takes two visits to SmileUp Dentistry to get your new smile!
Video: Dental Veneers – Talking Points With Dr. Sonya Reddy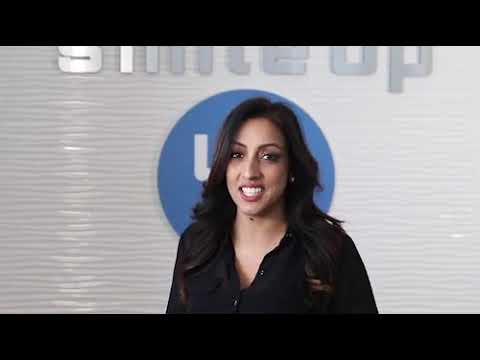 You can also take advantage of our other cosmetic dentistry solutions:
Bonding: Bonding is an affordable option for covering stains, chips, cracks, and gaps. We use dental material matched to your teeth, and then sculpt and blend it to perfectly match your smile.
Bridges: We can replace one or more teeth with a bridge. The bridge, made of an acrylic base that color-matches your gums, contains the replacement tooth (or teeth). It's adhered into place by either bonding crowns onto neighboring teeth or being anchored by a dental implant.
Crowns: Another cosmetic dentistry options for fixing damaged teeth are porcelain crowns. A crown can restore teeth that have been weakened, worn down, decayed, and treated. Porcelain is durable, stain-resistant, and functions as well as your real teeth.
SmileUp Dentistry offers general and cosmetic dentistry in Bartonville, TX, Lantana, Copper Canyon, Double Oak, Argyle, Corral City, Flower Mound, Grand Prairie, Coppell, Arlington and Euless areas. Let us give you a reason to smile!