Invisalign – Clear Alternative to Braces
The Clear Teeth-Straightening Solution for Adults and Teens
"Invisalign Smile Consult" – Free Online Consultation

SmileUp Dentistry is introducing the "Invisalign Smile Consult" program for virtual consultations so you can meet our doctors and discuss your treatment options. To setup a free consultation contact us and we will get you scheduled.
Introduction to Invisalign
So, you want a straighter smile, but you're leery of committing to the time and effort of traditional orthodontia. You worry about the look and feel of bracket-and-wire braces, as well as the difficulties in keeping them clean. If these concerns are preventing you from getting the smile you want, then SmileUp Dentistry invites you to consider Invisalign!
Video: What is Invisalign?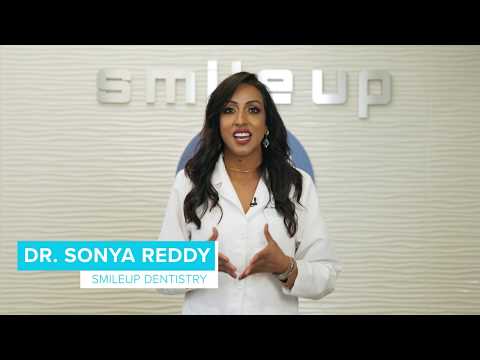 Invisalign are a series of aligners that are customized to straighten your crooked teeth, comfortably. Every two weeks, you switch out one set for the next, and over the course of twelve to twenty-four months, your teeth are gently moved into optimal alignment. At SmileUp Dentistry we are proud providers of Invisalign clear braces, and we can assess your smile to see if you will benefit from this excellent teeth-straightening system!
There are many advantages to Invisalign clear braces! Some of the many benefits include:
Convenience. Remove your aligners to eat and drink any time you like.
Comfort. The aligners are easy to wear, won't irritate your gums, and don't require adjustments.
Clear. The smooth plastic is clear and practically invisible. Most people won't even notice you're wearing aligners.
Clean. The aligners are easy to keep clean. Just brush them in lukewarm water before bedtime.
At Smile Up Dentistry, we offer Invisalign clear braces and other general dentistry options to patients in Bartonville, Grand Prairie, Coppell, Arlington, Euless, Corral City, Argyle, Double Oak, Copper Canyon, Flower Mound and Lantana, TX and other nearby towns. If you think that Invisalign might be right for you, then feel free to contact our staff at Smile Up Dentistry for more information. Are you ready to set up an appointment? Book your next visit with our dentists online today!